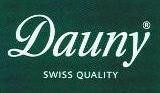 The Duncy duvets are made by the Swiss Billerdeck, a specialist with years of experience in making the duvets of Swiss quality.
Dauny - A great Swiss brand
A good brand can touch someone emotionally. It is known that people are willing to pay more for a good brand. They expect a better quality for the extra payment. The position of Dauncy is perfect. The materiaal and finishing of the products are the best in the market of quilts. A couple 5 star hotels are proud to have the Dauncy quilts and pillows in their suites. These well known luxe hotels appreciate the look and value of the brand Dauncy. People expect a constant high qualty of this brand. Dauncy products are produced and checked in Switserland completely by the Swiss quality measures. Dauncy is also a member of the VSB (Verband der Sweitzer Bettwaren) they garantee that the duckk down is animal friendly, not plucked when the animals are alive.

Dauny - only big duck down
More important than the down proportion is the volume of the down. Big flakery down provides a better isolaion, it makes sure that the compensation of warmth and cooling are in harmony, which provides a better night sleep. The down has also a better padding. Which means that the quilt can be filled with less down, which makes it lighter. You won't get the fealing of suffocation, there is no pressure on the sleeper and feels light. Big flakes makes the quality of the quilt last longer.

Dauny Quilt Filling Quality
The high-quality brand product for which we use only the best material for the various price categories. The raw materials are carefully chosen suppliers involved in Europe. The down and feathers come from well-fed, mature animals. This fuzz filling and snuggly soft - selected natural products for an invigorating, healthy sleep.
The Fuzz
One goose down is not the other. High-quality goose down, adding in the extremely fine hairs and millions of small air chambers for an optimal sleeping climate. The better the quality of the down filling, the smaller can be the bulk density. For not the filling volume, but the fill power determines the degree to which the air is retained and thus the insulating power.
For Dauny-quilts is only new, pure, European goose down used with great fuzz flakes for pillows only pure natural down and feathers from geese and eider ducks. It goes without saying that the animals have free range and not be picked alive.
Tices with San Pro Care, a diuretic and finish Nomite label used by the entire collection.
A truly unique article the Eiderdown duvets filled with scratchy hand down Eider in Iceland.