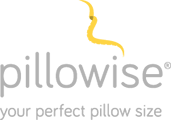 Meassuring is better! Pillowise gives a new vision on sleepcomfort. You see what the best pillow is for you with a simple meassurement. You can do this at our store or at your own home. zie Pillowise opmeten
Every body is unique. For the best sleep and keeping the body relaxed at night, it is important that the pillow is perfect for your bodysizes.
It is important that the pillow isn't to high or to low.
A perfect fit pillow, with the correct hight and form will shape around your neck, is comfortable soft and gives a good support. Pillowise pillows are ergonomic designed with the best materials. They are made in our factoy in The Netherlands . The Pillowise gives a 5 year long warranty.