Dauny Eider Soft Plus Pillow-champagne silk

Dauny Eider Soft Plus pillow

the cushion with a special touch off ultimate luxury

Who wants to indulge himself in an extraordinary way selects an eiderdown pillow stuffing.

The pillow is particularly soft and supple, yet it…

€ 1.420,00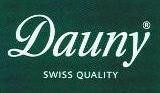 Dauny makes pillows of pure Swiss quality. The Eider duck down pillows are beautiful pillows with hand picked filling.